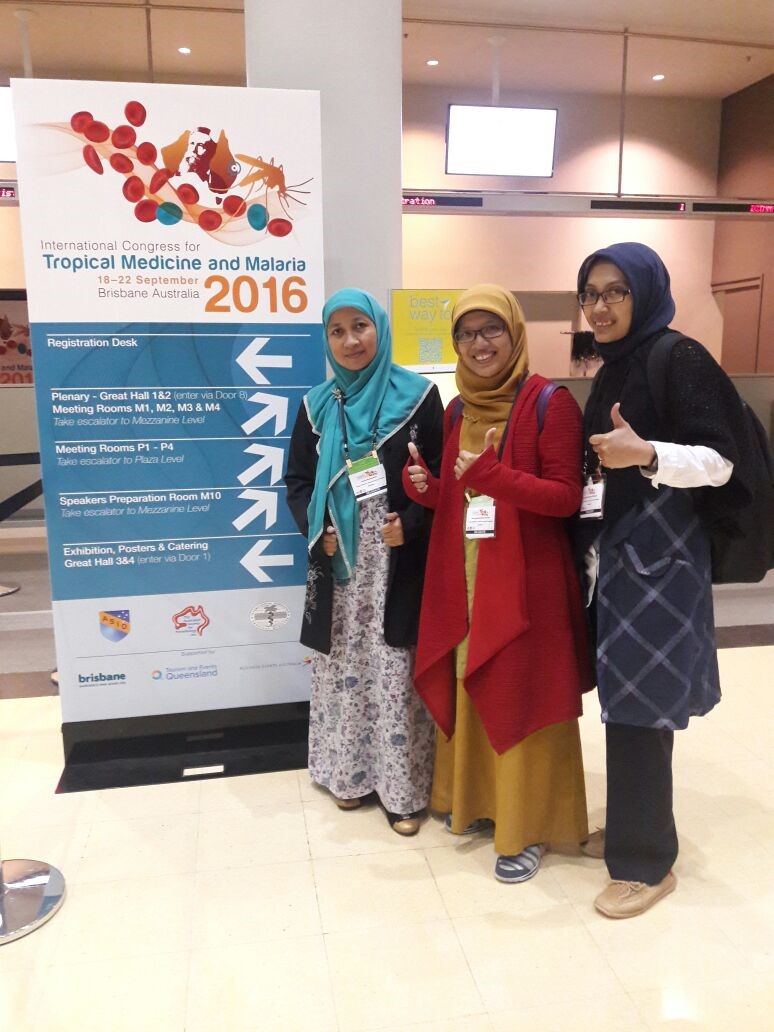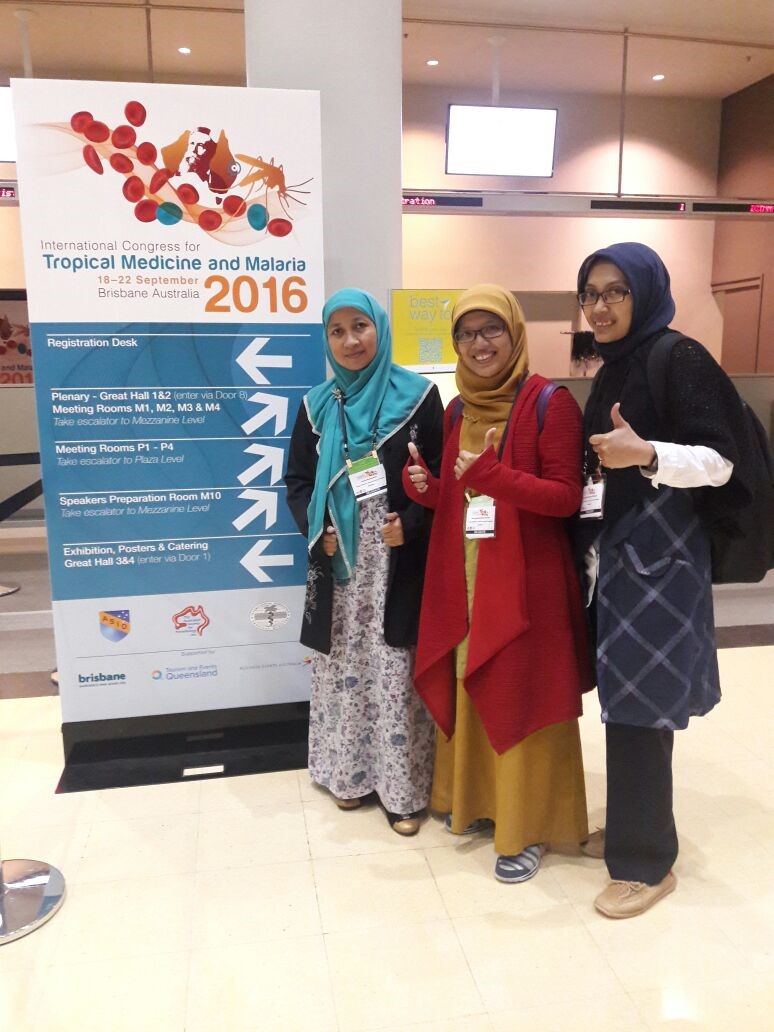 Foto Wibowo/Istimewa : Tiga Dosen Kedokteran, dokter Farida, dokter Utami dan dokter Irena saat mengikuti International Congress For Tropical Medicineand Malaria 2016 di Australia
Kaliurang (UII News) – Tiga orang dosen Fakultas Kedokteran (FK) Universitas Islam Indonesia  (UII) mengikuti International Congress for Tropical Medicine and Malaria 2016, yang di hadiri oleh berbagai negara , dengan jumlah sekitar 800 orang.
Hal tersebut diungkapakan oleh salah satu dosen yang mengikuti acara tersebut, Dr.dr. Farida Juliantina Rachmawaty, M.Kes. setelah mengikuti kegiatan tersebut pada pada Ahad – Kamis,  16-20 Dzulhijah 1437 H / 18-22 September 2016 yang diselenggarakan di Brisbane Convention & Exhibition Centre, South Bank, Brisbane, Queensland, Australia.
Menurut dokter Farida, kegiatan 4 tahunan ini,  membahas masalah infeksi tropis dan penyakit Malaria. Penyakit malaria banyak dibahas dalam pertemuan ini. Pada sesi kelas paralel dibagi dalam beberapa topik seperti penyakit zoonosis, filariasis, HIV, dengue, tuberculosis, travel medicine, dan lain-lain.
"Terdapat 8 kelas paralel dengan topik-topik  yang berbeda. Beberapa penyakit yang terjangkit di daerah tertentu juga dibahas seperti Ebola, virus Hendra dan virus Hanta semoga Indonesia terbebas dari penyakit ini," katanya.
Lebih lanjut di tambahkan oleh dokter ahli Mikrobiologi FK UII ini bahwa pada konggres kali ini peserta dari FK UII menampilkan hasil penelitiannya dalam bentuk poster. Dr.dr. Farida Juliantina Rachmawaty, M.Kes dengan judul The Effects of Ethanol Extract and Essential Oil of Red Betel Vine (Piper crocatum) Leaves Towards Cell Walls of Mycobacterium tuberculosis.
"Untuk dokter Utami Mulyaningrum, M.Sc poster yang di presentasikan dengan judul  Diagnostic Performance of Immunocytochemical Assay in Blood Smear for Dengue Antigen Detection from Acut Febrile Illness Patients, sedangkan dokter Irena Agustiningtyas, M.Sc. dengan judul Seroprevalence and Analysis Spatial of Toxoplasmosis in The Watershed of North Central Java Province," demikian kata dokter Farida, dan  semoga hasil yang diperoleh membawa manfaat.Wibowo/Tri
https://fk.uii.ac.id/wp-content/uploads/Tiga-Dosen-Kedokteran-Ikuti-International-Congress-For-Tropical-Medicine-and-Malaria-2016-di-Australia.jpg
1032
774
FK UII
https://fk.uii.ac.id/wp-content/uploads/logo-fk-web-300x96.png
FK UII
2016-10-01 03:46:59
2016-11-08 03:48:44
Tiga Dosen Kedokteran Ikuti International Congress For Tropical Medicine and Malaria 2016 di Australia