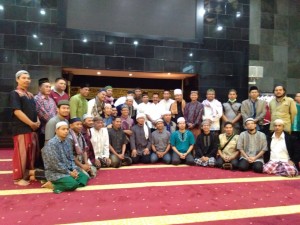 Yogyakarta, Faculty of Medicine UII – The busyness of daily activity make employees Faculty of Medicine UII bored. For that they spent time together as long as 3 days for religious trips once a year. Participants depart together on Friday night (29/09) at Tugu Station and arrived in Bandung the next day. The main destination of the trip was Daarut Tauhiid boarding schools, Bandung. Boarding school that has stood since September 4, 1990, established by KH. Abdullah Gymnastiar or familiar accosted Aa' Gym. Ustadz who have a unique style in delivering Da'wah made FK UII interested to studied Islam at the Islamic boarding school he founded.
After take a bath and breakfast, Saturday morning (30/09) the participants learn Kewirausaahan Islam together with Ustadz Mumuh Abdul Muhyi, M.Pd., in the Daarut Tauhiid Hall. In the afternoon, participants got a thematic study of parenting. To make a conducive situation, men and women were separated. Male worshipers filled by Ustadz Jamaludin, S.Pd.I., while worshipers women together with Ustadzah Ninih Muthmainnah as speaker. To end the day's activities, the participants returned following the thematic study but this time discussing management conscience along with Ustad Ahmad Qomarudin.
On the last day, they could met Aa' Gym face to face. After all participants goes to Darus Sunnah boarding schools accompanied by Aa' Gym. Shared moments he also concludes with a study of lottery results dzuhur prayers in congregation and dzuhur. Besides relieving tired after and began working throughout the day, from morning until dusk approaches each day. The activities of the eight is expected to progressively foster a sense of solidarity and building ukhuwah fellowship.
Farah
https://fk.uii.ac.id/wp-content/uploads/WhatsApp-Image-2017-10-10-at-15.20.20.jpeg
960
1280
Farah Adibah
https://fk.uii.ac.id/wp-content/uploads/logo-fk-web-300x96.png
Farah Adibah
2017-09-29 02:11:52
2017-10-14 02:13:45
Good Relationship with Outing Together